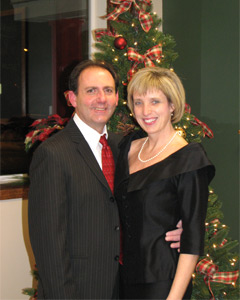 Ken and Annette Auteri
Dom's Butcher Block is a family owned and operated business located in the heart of downtown Ellicottville. Dom's has been serving the local community for over 10 Years! Our mission here at Dom's is to provide you with the highest quality products while sourcing them from as many local vendors as possible.
Our beef is free-range grass-fed USDA Choice always fresh and never frozen. All the meat in our cases are cut in house daily by butchers with combined experience spanning 50 years! We make all our fresh sausage by hand and carry a nice variety of both pork and chicken sausage.
Maybe seafood's more your thing? We've got you covered! Every Friday we receive fresh salmon packed on ice. To go along with it we have a huge selection of frozen seafood. We also have scallops, shrimp, tuna steaks and crab cakes. Dom's has a little bit of everything.
Dom's Butcher Block is always smoking, literally. We have two smokers that run around the clock providing our customers with huge variety of smoked products ranging from jerky and beef sticks to ribs and pulled pork. Complimenting our line of smoked items, we also carry a wide variety of local cheeses ranging from organic cheddar to freshly made raw milk cheese like our popular Farmer and the Dill. Don't worry we sell crackers too!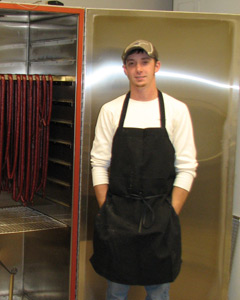 Tyler Auteri
If you're looking to throw a party, Dom's has you covered! Just give us a call and we can provide you with delicious choice top round cooked perfectly and sliced for beef on weck or fresh pork shoulder smoked and pulled for the ultimate pulled pork. If Seasoning is your thing we got you covered. Dom's carries a variety of local seasonings, rubs, and sauces. On top of that we carry locally made maple syrup and honey!
Our newest addition of in-house items is our Auteri Oils & Vinegars line. The Auteri line starts with organic olives sourced from Italy and Spain, cold pressed, then bottled in house. There is a variety of flavors to sample including white and dark balsamic vinegars. Whether you are making a fun summer salad dressing or marinating your favorite cut of meat we have something for you. Complimenting our oil and vinegar we carry a full line of local hand made dry and frozen pasta.
If you're here for the day or maybe live in the area and haven't stopped in, Dom's Butcher Block has something for everyone.
Thanks for all the support, Sincerely the Auteri Family.