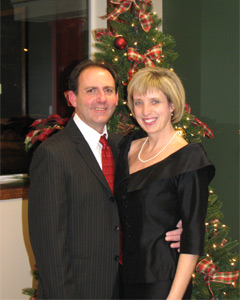 Ken and Annette Auteri
Dom's Butcher Block uses all natural beef. Everything in our pork and beef case is cut here and we also offer custom cuts at no extra charge. If there is something we don't carry on a regular basis we are more than happy to order it in for you if it is available to us with only a few days notice. We offer a wide variety of handmade pork and chicken sausage. Our pork sausage collection includes mild, hot, Romano sweet Italian sausage and seasonal sausages as well. We also offer maple breakfast and regular breakfast sausage. Our chicken sausage includes mild, hot Italian, Romano Italian, and chipotle honey.
We get fresh fish in every Friday. We usually carry salmon, cod, haddock, and sea bass. We carry frozen fish, lobster tails, scallops, shrimp, and tuna steaks. If there is a type of seafood that we don't carry we will be happy to get it in for you upon request if it is available to us.

In addition to high quality meats, cheese, and seafood, Dom's Butcher Block has added a large variety of D'Avolio products to compliment your meal. Whether you are looking for the highest quality extra virgin olive oil, balsamic vinegar, gourmet pasta, sea salt or special seasonings, Dom's is your one stop shop. Not sure what flavors you would like? Not to worry D'Avolio olive oils and balsamic vinegars are always available to sample. Stop in and we can help guide you to finding your favorites. Bon Appétit!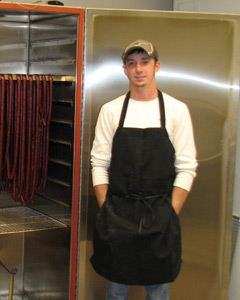 Tyler Auteri
Our full line of smoked meats is made in house from start to finish. Our smoked sausage includes hot and mild Italian smoked sausage, kielbasa, and summer sausage. We have three types of jerky BBQ, Appalachian and hillbilly (hillbilly is hot and Appalachian is more mild). There are two types of smoked bologna, beer bologna and old fashioned (beer bologna is more spicy). There are four types of beef sticks (look like slim jims) those are hot, mild, hot cheddar, and mild cheddar. All of our smoked meats are fully cooked ready to eat with no preservatives (not shelf stable must be refrigerated).
We offer a variety of cheeses from Cuba cheese shop. We also have Carr crackers as well as Pepperidge Farms crackers. Homemade jams from Mrs. Miller, lemon pepper rub and cappers sauce from Robert Rothschild Farm, a full line of spices and rubs from Carl's gourmet products, Miller's home-style cocktail sauce, and old timers horseradish. Last but not least we have a full line of homemade pasta sauces!